Christmas 2014 will not soon be forgotten! Our Christmas festivities began with the arrival of Ashley's dad and mom, Curtis and Cindy Reeves, or as they are so lovingly known around the orphanage, Pappy and Grandmaman! They arrived the middle of December to spend Christmas with us in Benin and the wonderful memories we all made together during this time will always remain in our hearts!
We had our first Christmas Eve service at the orphanage this year. Pappy read "Twas the Night before Christmas" with Maman Ashley translating everything into French for our children. It was so fun! This was then followed by a beautiful time of each of our children, from the oldest to the youngest, reading scripture passages to share the Christmas Story. As each of our children approached the front to read their respective verses we all listened intently. After the scripture sharing we all formed a large circle around our meeting room and lit our candles while listening to "Silent Night". What a beautiful representation this was of the light Jesus brought to this dark world with His birth! With only our candles illuminating the darkness we were reminded that we carry His light with us at all times.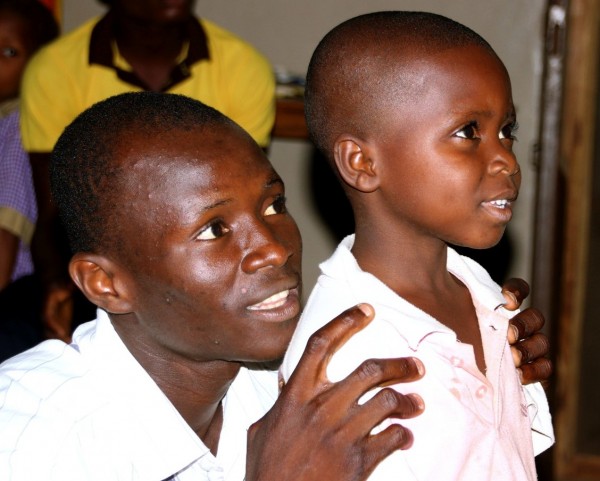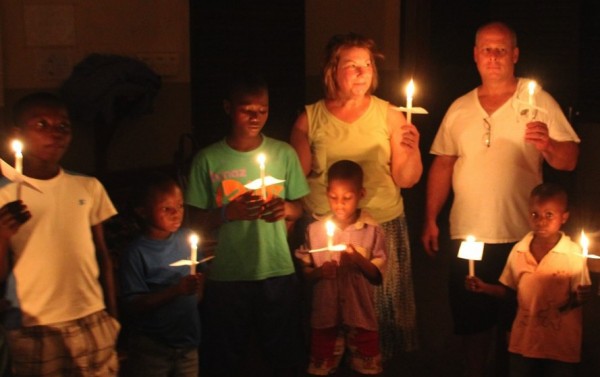 Christmas morning arrived and the excitement at the orphanage was palpable! A large pig had been purchased the day before for our Christmas meal and the older boys started the morning by preparing the pig. What a treat it was for all of us to enjoy such a wonderful Christmas meal. Pork with all the fixens'! We are thankful to have had this opportunity to purchase the pig as well as thankful to our boys who are always willing to prepare such things for our family to enjoy.
Arbre de Vie was incredibly blessed this year to receive numerous donations from generous givers all around the world. Each child chose one item they wanted and an Amazon Wish List was put together for our friends in the United States to purchase these items off the Wish List for each of our children and staff members. What fun! We were also incredibly fortunate to have been approached by an American school in Cotonou, QSI International School of Benin, that wanted to help make our children's Christmas one to remember! Each of our children again picked out one item and the parents, children and staff from the QSI International School of Benin in Cotonou purchased gifts for each child and even wrapped them! What a treat it was for our kids to not only receive one item they wanted but two this year! Each child proudly showed off their Christmas gifts to their brothers and sisters!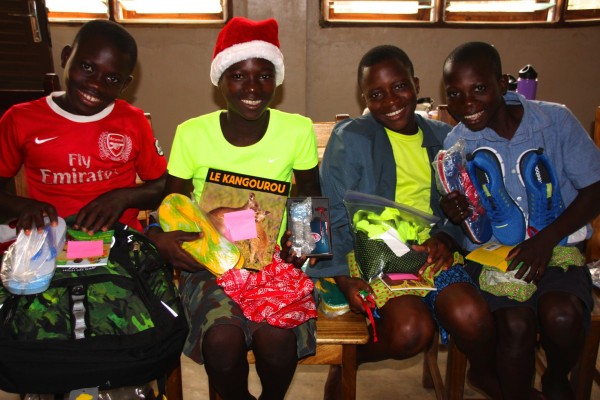 Monetary donations were also given for Christmas from our friends and family in the United States as well as the same school in Cotonou that purchased gifts for each child. With these donations we purchased fabric in Benin to have new family outfits made for the children of Arbre de Vie and our staff. We also purchased a new generator for the orphanage to use for our electricity needs and to pump water from our wells to our reservoirs. This money was also used to pay for all the wonderful meals we enjoyed on Christmas day!
For the third year in a row each of our children received a brand new French book. We also received many new French books to add to our orphanage's ever-growing library! Our Tata Betsy has headed up this project over the past several years and this year she again chose the books for our orphanage on Lectures de France and people purchased the books throughout August and September. Tata Betsy packaged them up and they arrived in time for our children to receive them on Christmas morning. What a joy it is for them to have these incredible books to read and continually further their education.
To all who generously gave through purchasing presents, books, and giving monetary donations to ensure that Christmas 2014 was a time to remember we want to genuinely say THANK YOU! Thank you for thinking of us, our children at the orphanage and our Christmas. Each of our children received needed items that were covered in love from people throughout the world. And we enjoyed such wonderful meals and memories on Christmas day all because of YOU! Thank you!