A prayer from one of our donors
Abba Daddy, we worship and praise You this morning. We thank You for Your love for Abre de vie. We thank You for blessing this ministry and being with the children. Help each child to do well in school and to know You personally. Give Jon and Ashley wisdom in raising these children. Give them the strength and understanding to do all that is required in running this orphanage. You are such an awesome Father. We ask that You protect this ministry and bring Your kingdom come Your will be done on earth as it is in Heaven in this ministry. We love You Father and Thank You for all You are accomplishing for Your Kingdom Glory at Arbre de Vie. I ask that You Bless all that are a part of this ministry from the ones that started this ministry to each child, to each cook, security person and each volunteer and supporter. Move is each one of our lives. Father, we want more of You, More Lord. In Jesus Christ we pray, Amen.

Help us PRAY!
As a Christian organization, we believe that the ministry we are involved in is totally God's. We are just so excited to be able to join in His work with Him. Because of this, we know that communication with God and seeking his plan is of utmost importance. There is so much in this world that we can't control and that we can't change, but God certainly can. We try to depend on Him for everything. All of our needs are always taken care of, because He promises He will give us everything we need and he keeps those promises! So we seek Him in all things. For wisdom, help, protection, provision, and anything else, we believe that it is God who supplies this for us. He is our refuge, strength, healer, guide, friend, protector, and many more things. We seek Him in everything and for direction in this ministry. If He is our foundation and the one we are always listening to, we cannot go wrong. We submit ourselves unto Him and through this we know and have seen that HE will manifest His power and accomplish His works.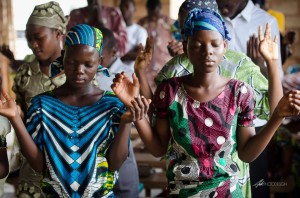 When we are dependent upon Him and seek to align ourselves with His will we can receives God's direction and find that His plans are always better than our own!
We believe in the power of the body of Christ praying together for specific things and seeking Him always for this ministry and the lives of the kids. We depend on our prayer partners to stand in the gap for us when we are so overwhelmed in the battle that we can't even find the words to pray for ourselves. We know that our battle isn't against flesh and blood but against the spiritual forces of evil and we use prayer as our greatest weapon. We invite you to pray with us and for us as we have seen the power of a believer's prayer interceding for another. Would you pray for this ministry and for these kids?
If you would like to be more informed on prayer needs, please fill out the form below: