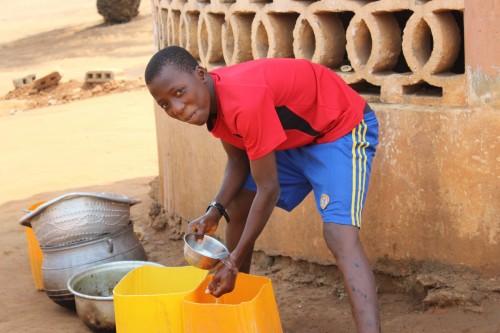 Name: Moïse
Gender: Male
Birthdate: June 29, 1996
Origin: Sakété, South Benin
Arrival Date: December 2004
Grade: 8th
Moïse is the youngest of 7 siblings. When Moise was a few months old, his father, who was a motocycle taxi driver, was robbed of his bike and very badly beaten. He later died, leaving Moise's mom and his six siblings with no income or training to support themselves.
During this time, Moise's mother and three of his siblings (three others lived with relatives) lived together in their clay house where they shared a mat a night. Moise is allergic to corn, the basic food in Southern Benin, so his mother would prepare a different diet for him most of the time, which was an additional burden on the already struggling family. In 2004 at the age of 8, he joined the orphanage Arbre de Vie in order to receive a necessary diet, education and well-being.
Today, Moise has a calm spirit and is very introverted. He makes an effort in school and his favorite subject is math. He loves anything to do with technology and loves to explore and rebuild old electronics.