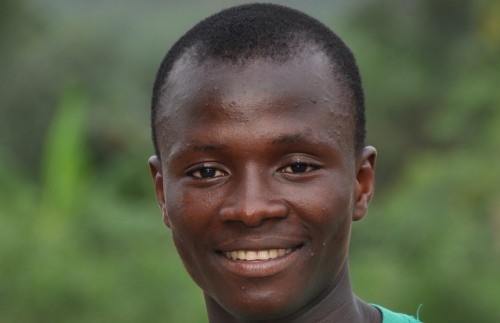 Name: Seraphin
Gender: male
Birthday: July 27 1992
Origin: Sahoro
Arrived at orphanage: October 2010
Grade: 11th
Social Background:
Seraphin comes from the village of Sahoro, the same village that many of our children have stayed in or near. His father is a farmer and his mother a house keeper. While they have a lot of land that can produce crops, money has never been in abundance. Being the fifth of six children has never been an advantage for him when it comes to attending school. The few finances that his family had would be focused on the older children in higher grades. For various reasons, Seraphin's father was unable to support the financial needs of school for him and his brother. They came to live in Sakete to stay with their uncle who used to work for Arbre de Vie. When the uncle moved out of the country, they were left alone in Sakete and if not taken in by the orphanage, they risked the chance of dropping out of school, not to mention that their living expenses where unmet. In 2010, Seraphin along with his older brother joined the Yedidja family.
Current Situation:
Seraphin is currently one of the big brothers at the center and is a vital part of life at the orphanage Yedidja. He is a very responsible and hardworking young man, always helping to accomplish tasks at the center while also looking after his younger siblings. He takes initiative in working in the center and is the force behind our farming efforts. He works hard at school and hard in the field. He is a sweet and gentle spirited man but is tough as nails and awesome at killing snakes. He makes every effort to do well in school and takes his school work seriously. He has picked up the sport of long distance running with Mama Ashley and runs with her on a weekly basis. In April 2013 he ran in his first organized race, a half-marathon in Benin, and finished amongst the top 50 runners out of more than 2,500 participants. Seraphin is in 11 th grade and attends the main high school in Sakete, which is approximately a 20-25 minutes walking distance from the center.